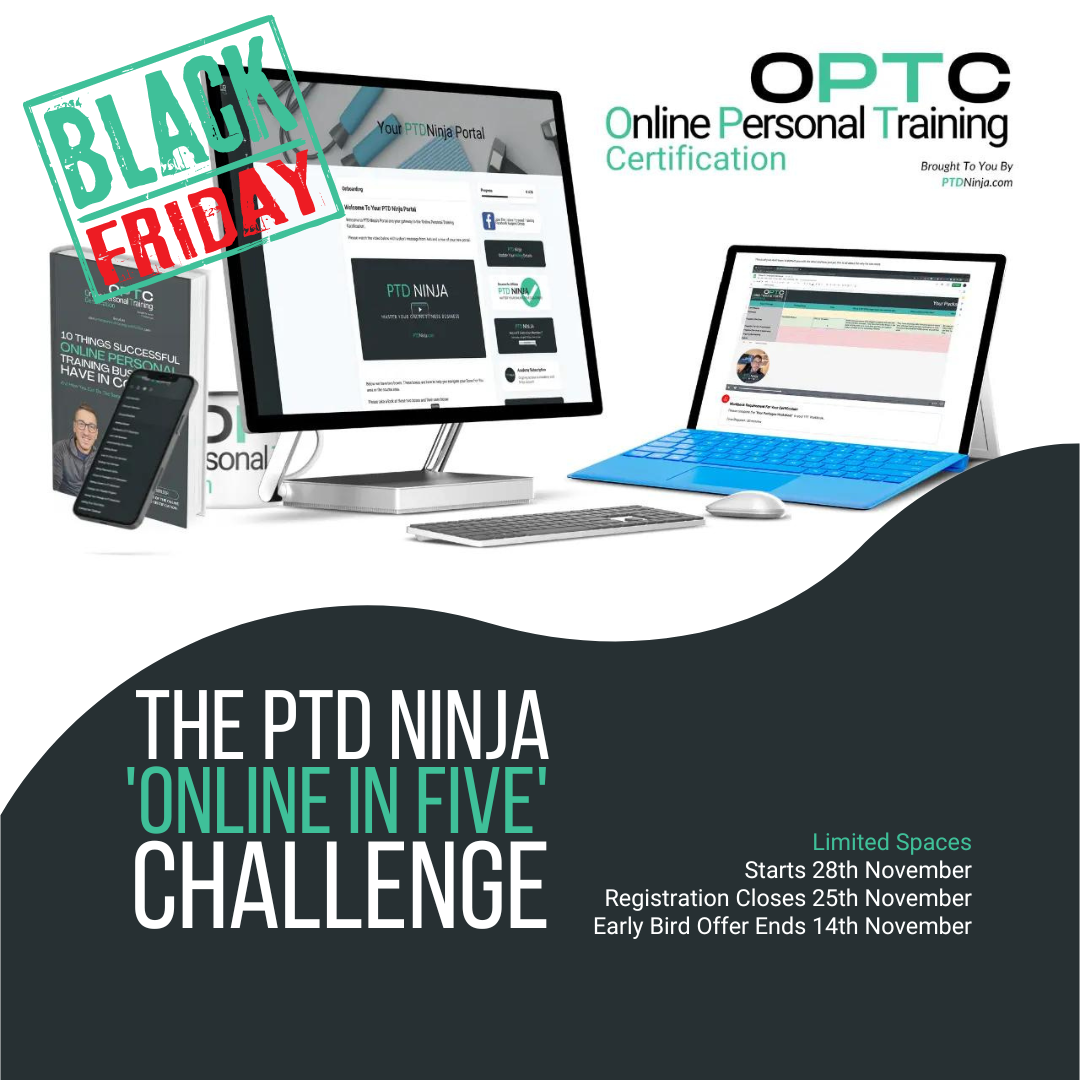 The fitness industry, like many, has been hit pretty hard. Personal Trainers around the world struggled to make an income, gyms and studios closed and Fit pros were forced to find new ways to do things.
No sooner had the hard times felt like they were coming to an end, than the world's economy started to take a hit and the cost of living around the world went up!
By taking your business online, it can help you take control and put you in the driving seat and help your fitness business thrive!
And I want to help you. 
Our MO at PTD Ninja is to create 1000 success stories for personal trainers that take their business online.
So we have brought back our famous 5 Day challenge!
Last year, trainers and coaches like you made 2, even 3 times their investment back before the challenge was over! Yes, in just five days!
– Don't know how to find new leads and clients? Together we dial down on how to find the perfect clients and sell your services to them.
– Not sure how to run a successful online personal training program or just don't have the time to create all the content and set it up? Let us do this for you. We will set up a 12-week online coaching program designed to get your ideal client incredible results. We'll even give you all the content and structure for this. Better yet, we will set it up for you. No need to worry about tech, we take care of everything.
– Not sure how to package your online program, price it or build a sales page to sell it? We have you covered. During the 5 days together we will create an irresistible offer, create a sales page for it and help you price it. 
– Wake up most days not knowing what to do and feeling like you are wasting time staring at a screen? Together we create a social media and organic marketing plan, specifically designed to attract your ideal clients that you can run for months without needing to struggle for ideas. 
– Worrying about sales and bringing cash into your business? We will show you how to bring in paying clients into your new program and make sales.
Are you a personal trainer who wants to ensure your business has the systems & services in place to grow in the uncertain world we find ourselves in today?
Then click here to find out more about the PTD Ninja 'Online In Five' Challenge.
But wait, as an Early Bird Offer, for anyone that registers before the 14th of November will receive two free 1-2-1 coaching sessions with the CEO Ash and the CFO Ged of the PTD Ninja, worth £150.00.
Early bird registration closes at midnight on the 14th of November 2022.
Final registration closes at midnight on Black Friday, the 25th of November.
The challenge begins Monday 28th of November.
To find out more or to sign up for the challenge, click here.